March 09, 2007
Lisa: Tool of the Week
Over the last 15 years or so, I've tried a lot of mascaras. Luckily, I wasn't makeup-age during the era of the colored lashes, but I've tried every tube my mom ever bought (Clinique, Arbonne, and various other high end stuff), every brand they sell at the drugstore, and some things in between.
By far, the best mascara I've ever used is...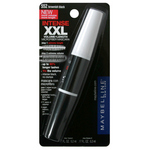 MAYBELLINE INTENSE XXL VOLUME + LENGTH MICROFIBER MASCARA.
The tube is divided in half, with one end being a whitish "lengthening primer" and the other end the black top coat. No lie, this mascara does make my lashes look significantly longer and more full. My natural eyelashes are barely average, but when I started wearing Intense XXL...
My mom (who historically only comments on my eye makeup to say that it makes me look like I've been crying) said my eyes looked very glamorous.
Defying husband stereotypes everywhere, Blake told me my lashes looked "long and luxurious."
A woman I was helping at the library told me I should be an EYELASH MODEL. No, really.
This is obviously no ordinary mascara. Try it! And tell me about your favorite beauty product in the comments!
Posted by lisa at March 09, 2007 11:02 AM