January 03, 2008
Sarah: You know, some people leave Christmas decorations up all year.
So maybe January 3 isn't doing so bad.
I present to you the lovely Christmas ornaments swapped by some lovely people.
Jen's ornaments were globes of glittery string that made a lacey cage for the gold jingle bells that filled the inside. They came in cute Christmas tins.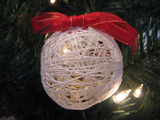 Marta included instructions to fold out her ornaments (it made me feel a little like I was participating in the process). These adorably patterned paper ornaments came with a tag so that we could remember when these ornaments were given to us.
Marci's glittery stars hang from a curly silver loop. I'm excited to finally have a star to put at the top of my tiny tree.
Jeremy personalized each of these South Park-style ornaments to look like each of the recipients. Clockwise from the top left, that's Marta, Marci, Sarah, Nora, Blake, and Lisa (the Smith family hit the jackpot!). Jeremy took the time to study our pictures and carefully choose clothing and makeup that he felt suited each of us.
Lisa crafted ornaments about crafting. What a great idea! I'm left wondering what gauge of needle one uses to start tiny ornament scarves.

I tried my hand at silver leafing and gave each person their first initial. Things I learned: metal leafing isn't as easy as I had imagined in my head (and it's a whole lot stickier), some craft stores are significantly cheaper than others, and the decision to try again after my first run of ornaments failed horribly was a wise one.
Thanks again to all who participated! My tree is so much cuter than it was before this exchange, and I love how these ornaments each have their own personality. I'm so happy with how this swap turned out and look forward to doing it again next year.
Posted by sarah at January 03, 2008 10:41 PM