September 08, 2008
Sarah: Up to No Good
My energy seems to have been spent elsewhere as of late, so my blogging has been a bit more sparse. Perhaps it went towards something like: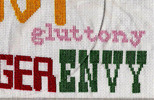 Making my own Seven Sins Pillow


Applying for graduation


Trying out a new cardmaking technique (Yeesh, the green is slightly less radioactive in real life.)


Responding to Jeff's adorable card

Enjoying my gifts from Japan (Thanks, Val!)
Pink text: Fruit Train -- Welcome to the country of the fruit. What do you see in this fruit? It is a train that carries your dream.
Yellow text: Cheese Driving* This rat goes to buy food while taking the cheesecar on the weekend.
Anyway, I'm keeping busy, and I like you. More entries brewing!
Posted by sarah at September 08, 2008 04:38 PM