April 16, 2009
Lisa: Ur jus jellus!
Sarah documented the majority of our Britney experience (and I'm sure she'll share many unflattering photos here), but I thought you might like a little preview: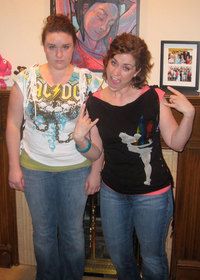 If you don't recognize immediately that those shirts are made according to the tutorial featurette on the Crossroads DVD, then that is why I am here. TO OPEN YOUR EYES.
Posted by lisa at April 16, 2009 02:18 PM