May 28, 2010
Lisa: Tools of the Week
I consider myself fairly lipstick-impaired. During my formative years, the vast majority of my dress-up occasions involved playing the flute--an activity I cannot perform while wearing lipstick. It wasn't until I saw photos of myself singing with Voices as an adult that I realized lipstick is the only thing keeping me from looking like a particularly lipless decaying corpse. Unfortunately, the only decent lipstick I have owned for the last 10 years or so is an old tube of Clinique Plum Brandy that I'm sure I stole from my mom. It was time for me to woman up, do a little research, and take the plunge. Here's what I found.
The internets told me that matte lipstick is the best for vintage looks, but there aren't many drugstore-level choices around nowadays. This is a good option to try, to see if you like the effect before you spring for MAC or something even more glamourous. The color I bought is In The Red, which is a bit more on the orangey side than I expected from seeing it in the tube. I still like the color with the right outfits, though, and I love the texture, especially when I first put it on. It does get eaten off my lips pretty quickly, but I think that might happen with all lipsticks. Anyway, it's a bargain at $6 for a pack of two through Amazon right now, so you can afford to reapply as often as you like.

OBSESSIVE COMPULSIVE COSMETICS LIP TAR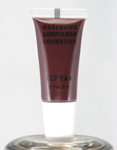 YouTube makeup tutorials convinced me I had to try these. At $12.50 apiece, they're not as cheap as the Revlon lipstick, but still somewhat reasonable. Plus you only use a teeny bit at a time, so the tiny tubes should last a long time. Lip Tar (which does not contain actual tar) applies wet like a gloss, but is highly pigmented like a lipstick. Both of the colors I tried (Plum and Vintage) are great: dark and rich with a shiny finish. The plum looks pretty improbable in the tube--it's really bluish--but on, it's awesome in a vampire-y sort of way. Lip Tars are really made to be mixed with powder pigments or with each other to create custom colors, but I'm not that advanced yet.
There's definitely some feathering action with the Lip Tars, which I think is more common with lustre-finish lip colors, but that can be minimized by layering over a base of lipliner. It helps with darker/brighter lips also to create a really sharp lip line with concealer and a brush on the skin around your lips. I did find that the pigment of the Lip Tar sort of sinks into the cracks in your lips, so that when the main surface of the color gets eaten off, you're left with a really bizarre Jack-the-Pumpkin-King kind of look. A little more Lip Tar or even just some lip balm smeared around to pick up and spread the remaining color can salvage things.

So. That's what I've been playing with so far. What's your favorite lipstick?
Posted by lisa at May 28, 2010 06:09 PM