August 25, 2010
Sarah: Urban Orangutan
Lisa's post about what to bring to the swimming pool reminded me that I'd learned a little about this topic a few weeks ago as well:
One of the amenities in my apartment/condo complex is a swimming pool, and I've been trying to take full advantage of this feature during the summer. Working without air-conditioning helps me stay motivated. As does knowing a cute little person that loves to play in the water. Over the course of the summer, I've spent evenings and weekends at the pool and only seen a few other residents: a young couple, a few parents with their kids, and one older lady that wanders the complex all day, watering the flower pots with a milk jug full of water.
Until now, dear reader. Until now.
I was sitting poolside on a Saturday morning when this orange-hued gentleman strolled in, supplies tucked under each arm. Don't worry, when he unpacked, I took a photo so that you, like he, can properly prepare for a day by the pool. I know, the water can be so unpleasantly wet and cool, but that beautiful, sun-reflecting pool will bring your suntan to a new level.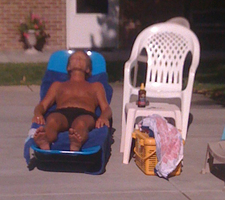 I call this instructional guide Operation Human Toast:
Pre-Pool Preparations:
1. A small swimming suit is a must. Black attracts heat, so that is clearly preferable.
2. Invest now in blond hair dye. Let the light yellow strands of your flowing locks be the yin to your darkening skin's yang.
3. Find a large plastic tote for your supplies. Your grandmother probably has one in her basement. Take a look.
4. Make a run to 7-11 for a Super Big Gulp. Probably diet soda. Obvs.
Pool-side Perfection: This will be faster with an illustration.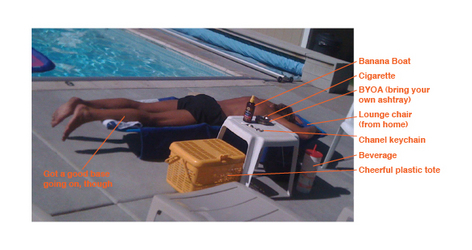 1. Suntan lotion. Bring it. If I have to tell you this one, you've already failed.
2. Cigarette. Summer in a desert state can be so frosty. Smoking will help you warm right up. Plus, your skin might not be wrinkling fast enough from the sun damage. This will help speed the process.
3. Bring Your Own Ashtray. The HOA has seriously overlooked poolside ashtrays. You might write a strongly-worded letter while you're laying by the pool.
4. Trust no one. The pool area may be scattered with chaise lounge chairs, but they're probably not good enough. Better to have a personal collapsible lounge chair specifically for tanning.
5. Bring your keys for the pool area, but keep it classy. Chanel keychains preferred, Fendi also accepted (not pictured).
6. Settle in for the long haul. You don't get this sort of burnt sienna glow by clocking in an hour here, an afternoon there. Purchase a beverage that reflects your commitment for a weekend-long tanning bender. Getting beautiful is thirsty work.
7. NOT PICTURED BUT VERY IMPORTANT: Boom box. Turn on some tunes. AM radio seems to suffice.
Invest in aloe. These words are scripture.
Posted by sarah at August 25, 2010 11:46 PM