February 23, 2011
Sarah: Winter 30 for 30, Days 16-18
We're halfway done, you guys. Did you think I would burn out by now? Admit it, you didn't think I'd last this long.
Day 16:
Here are the very blurry photos of my black sweater, grey skirt, pink tights, and the unexpected MVP of the 30 for 30, my new grey boots.


Do any of you have tricks for avoiding runs in the toes of your stockings and tights? I figured that continually clipping and grooming the nails on my stubby, round toes (you're welcome for that visual) would be enough, but I seem to be having terrible luck lately. I want to get at least a few wearings out of my tights. What am I missing?
Day 17:
Because I'm not planning on carrying 30 for 30 into March, I need to figure out how to squeeze a few more outfits into the 28 days of February. It made sense to start on a day when I was spending the day at my casual print shop and then rushing off to my cousin's wedding. Observe:
Ensemble 1:
I wore my grey sweater over my long-sleeved black scoop neck shirt with my black skirt, thick black tights, and brown boots.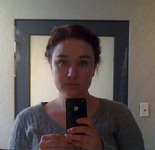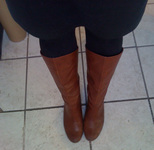 Sorry that the mirror in my work restroom needs to be cleaned. The new location is a work in progress. Anyway, I was comfortable and warm during the day, and then presto-change-o:
Ensemble 2:
The sweater is gone and I swapped out the thick tights and boots for patterned stockings and black wedges.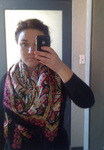 Years ago, I was in Europe and while shopping at H&M, I found something that was either a gigantic scarf or a very silky tablecloth. My advice, should you find yourself in a similar situation, is to purchase immediately and ask questions later. You can see my outfit in action here when my parents and I rocked the photo booth at the wedding: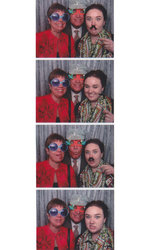 Day 18:
I've been looking for an excuse to wear this scarf. I like it.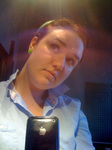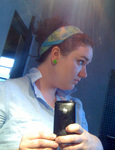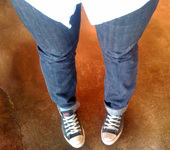 This pants-shoe combination is so ridiculously comfortable that I don't even care that it is completely stumpifying. This outfit is going to be worn again after this month.
Posted by sarah at February 23, 2011 03:59 PM