March 13, 2011
Sarah: Winter 30 for 30, Days 28-29
We're to the finish line! Because I doubled up on one day of the 30 for 30, we only have two more days to go.
Day 28:
That blur below is me wearing my blue button-up shirt with my grey mini skirt. Loose shirt + short skirt = Comfy Town.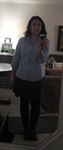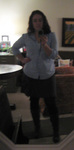 What's that? You want to see more house awesomeness? How about this giant orange ampersand that my friends made for me?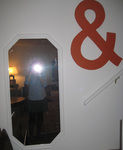 They are great. It is great. You can come over and hang out with my ampersand sometime.
Day 29:
Today I went to see DeVotchka in concert. So I needed clothes that would be warm enough for waiting in line and comfortable enough that I could stand near the stage for a few hours.



Everything went pretty much according to plan. My recommendation is that you go to concerts with my buddy Mallory. She's good times. We had an awesome view.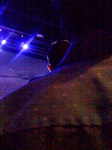 At least, until this guy stood right in front of me. His date stood right behind me (chivalry is not dead?) and he was so close to me that I think some of his dandruff got stuck in my eye. It's okay, though. DeVotchka is worth it.
Posted by sarah at March 13, 2011 01:38 AM