May 01, 2010
Lisa: hair-suit
I have naturally wavy/curly hair, and since becoming an adult my attitude has swung like a pendulum between the extremes of 1) celebrating curly hair and decrying the media position that wavy hair is ugly and messy, and 2) forcing it into smooth submission. Recently, I tried a modified version of the "curly girl" method for a while, but now I've swung back into something more styled--using hot rollers regularly. My dad asked if I started doing my hair differently to distance myself from my billboard doppelganger, but it's probably more a case of just getting bored with having the same look every day. Plus, I've been getting more into retro looks lately, and the only decade my natural hair is reminiscent of is the 1980s. Hot rollers are actually surprisingly fast and low-maintenance. There's no tiresome (and damaging) blow-drying or flat-ironing, either; the rollers are my only straightening agent.
But...remember how I couldn't stop raving about Grey Gardens yesterday? Sarah could testify that a good part of what was making me drool with each new outfit was Drew's fabulous 1950s hair.
Barring having a team of experts on hand for styling and touch-ups, what do I need to do to get my hair to look like that? Online research suggests having my hair cut specifically for curling--the words 'wedge cut,' 'undercut,' and 'double cut' have been thrown around. But how do I convince my much trendier stylist (who seems to give me a mullet no matter what I ask for) that this is what I want? Salt Lake City isn't exactly full of salons that specialize in retro cuts.
In the meantime, YouTube is a great source for instructions and tutorials for retro hairstyles. I've been wearing a modified version of this easy pin-up "pomp" fairly often. (You can see it on Facebook here, here, and here.)
I also tried out this faux finger wave bob for Kaeleigh's Great Gatsby party (photos on Facebook here and here) and I was really happy with how it turned out and how easy and approachable it was compared to doing real finger waves. I think the key to shiny hair with the waver is Redken Spray Starch (mentioned in the video), which is tricky to find in stores these days, but gave me a much better result than my Britney concert attempt. I also didn't bother straightening first, but just brushed out pieces of that day's curly style and mashed them into the waver's hungry jaws.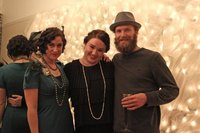 Next up, I want to try some real victory rolls, or maybe this victory rolls and ponytail combo that is supposed to be good for second-day hair. But...that's not really what my hair looks like on the second day after washing at all. Maybe I need to do some more research. Or maybe the texture difference is a result of pin-curling instead of using hot rollers. I think I'll try one of these two videos to set in some pin curls, and see what happens. The part two videos from both of these channels is making me think I need to buy a new brush first, but I can handle that.
Last but not least, four blogs I've read in the last two weeks have recommended a book called Vintage Hairstyling: Retro Styles with Step-by-Step Techniques by Lauren Rennells (check out her blog here). I wish my library had it, so I could check it out right now. As it is, it will probably languish on my wishlist for a while. But who knows? I may break down and need something to hold me over until Dita's book comes out.
May 04, 2010
May 05, 2010
May 28, 2010
May 31, 2010