November 22, 2012
April 23, 2011
Lisa: 2010 ornament: Dita's Sleep Mask
As you probably know, Sarah hosts a Christmas ornament exchange every year. I know she still has some to show from this latest exchange, but take my word for it--the ornaments are just getting more and more awesome and we have so much fun coming up with something and then seeing what everybody else has made. Before I let it get too much later in the year, I wanted to show those of you who weren't in my swap group what I ended up making this time.
Preface: it probably doesn't mean anything to anyone but me, but for each swap I try to make an ornament that represents something that has been influencing me in the last year--either in subject matter or in technique. The first year we did the exchange, I had recently discovered knitting and was getting excited about the crafting potential there, so instead of glass balls I made little balls of yarn, each topped with a tiny pair of knitting needles and the beginnings of a miniature scarf. Our second year, there had been a LOT of discussion about zombie apocalypse preparedness plans, and I planned to buy Blake largely zombie-themed presents. A zombie ornament seemed like the next logical step. For 2009, I got obsessed with amigurumi and nerd culture, and crocheted tiny Cthulhus for everyone.
In 2010, I started getting more into vintage beauty, burlesque, and specifically the incredible Dita Von Teese. I drove away the few male readers we had left babbling on about it, and the rest of my free time sewing dresses from vintage patterns. Sarah and I and some of our girlfriends also had fun checking out a local burlesque troupe, the Voodoo Darlings. And don't tell her parents, but a certain like-minded friend and I actually went to see Dita perform at the Crazy Horse in Las Vegas. So fun.
But I digress. When it came time to decide what to make for the 2010 exchange, I couldn't stop thinking about an image Dita had posted on her twitter feed, featuring her beautiful self holding up a glamorous Moschino sleep mask over her eyes. I decided (because I am possibly cracked) that miniature versions of the sleep mask would make awesome Christmas ornaments. The fact that I had a lot of the fabrics I needed already on hand made it an even more attractive option, since we were pretty broke at the end of the year.
I copied the shape of the mask and the style of the lashes and writing as best I could, swapping out "Dita for Moschino" with the more fitting phrase "All I Want for Christmas." I'm sure these details were hand-embroidered on the original, but in my slacker way I substituted carefully-trimmed printable iron-ons. I decided to line the back of the mask (which you can't see in either Dita's photo or the photo of my finished product) with a dark red satin, and I stitched in little loops of black satin ribbon on each side to accommodate either ornament hooks or a longer ribbon (for practical use by the very small-headed).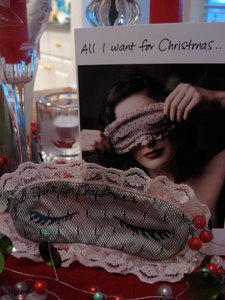 Once I had the system down and the materials in hand, I decided to make a few full-size sleep masks as well, as Christmas gifts for some of my friends. The larger version has sewn-in long ribbon tails instead of the little loops. I hope Dita would approve!
January 30, 2011
December 22, 2010
December 16, 2010
December 15, 2010
December 14, 2010
November 29, 2010
November 01, 2010
December 05, 2009
November 19, 2009
November 23, 2008
November 21, 2008
November 17, 2008
November 15, 2008
January 03, 2008
December 07, 2007
November 24, 2007
November 23, 2007
November 17, 2007
November 15, 2007
November 14, 2007