February 20, 2004
Lisa: You Decide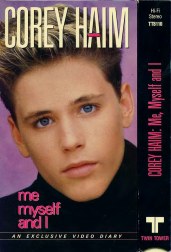 Matt at X-Entertainment: "The movie that's so bad, you'll start to wonder while watching if you're typing on the devil's computer in Hell itself! It's back: The Corey Haim Video Diary."
Fans at the Hollywood Memorabilia Convention: "We can't stop talking about Corey and his reactions to us. When we get back to the hotel room, Jennifer grabs Kris's video and begins to kiss it over and over again. Kris, for fear of Jennifer messing up the signature, let alone the wearing box itself, takes the video away from her. She only returns it to Jennifer's grasp after making her promise not to kiss it anymore."
Corey himself, on the video: "You are what you wear. I wear something different everyday."
Posted by lisa at February 20, 2004 04:06 PM