April 30, 2004
Lisa: Fruity Labors
As part of my abrupt swing into craftiness, I decided to teach myself how to crochet. Several months ago, I started a baby blanket that (with some tweaking) actually turned out well enough that I gave it to a friend at her baby shower. Of course, halfway through that project I saw some prettier yarn at the store and wanted to make something for myself. A scarf seemed like just the thing. Since the yarn I used makes crappy-looking fringe, I decided to add a few rows on each end with a fancy eyelash yarn (just because I'm crazy like that). Here's the finished product: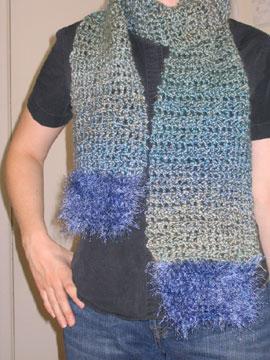 I was pretty happy with my scarf, so I decided that I needed matching mittens. I found some free patterns online, and tried the one that looked most promising. Unfortunately, I had no clue about the importance of measuring your gauge, plus I was using fatter yarn than the pattern called for, and I'm naturally a pretty loose crochet-er. Of course, the first mitten turned out humongous (see below). I tried a new pattern without checking the gauge AGAIN, and it turned out huge too, so I sort of improvised (using my own creative ideas [hee]) to come out with a mitten that was basically the right size. If I ever finish the other mitten, maybe I'll post a picture.
The yarn is Lion brand Homespun (acrylic) in Windsor 341 and Fun Fur (polyester) in Sapphire 109. Both yarns are pretty to look at, cheap, and easy to find, but hard to work with--and would undoubtedly be frowned upon by yarn snobs.
Next up, I'm going to try knitting again. The last time I knitted was in Girl Scouts, and it was an abject failure. Not knowing how to cast on or off was probably detrimental to the whole process. I checked out a copy of Stitch 'N Bitch from the library, and I think I'm going to try the "Ribbed for Her Pleasure" scarf in a charcoal gray wool for my dad. I just won't tell him that's what it's called. Anyway, wish me luck!
Posted by lisa at April 30, 2004 02:54 PM