April 12, 2006
Sarah: Computer Nerd or Photographic Phenomena?
As I already posted, I took a picture of myself enjoying some Diet Coke while hanging out with Mallory, Marci, and Lisa.
Afterwards, I set this picture as my MSN profile picture. Lisa mentioned that she liked to think it was me looking at my computer, drinking a Coke, and enjoying whatever website I was reading. In other words, what I look like all day at work.
This conversation got me thinking about other pictures I currently had stored on my computer. I thought I'd share my somewhat disturbing discovery:
Sometime during Aug.-Dec. 2003


Lisa's husband Blake had a project for his photography class. I was the subject. So what did I do? Played on his computer while he took photos.
Sometime during Jan.-Mar. 2004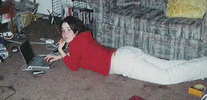 Me. At my computer in Logan. My roommate's boyfriend would always walk in while I was looking exactly like this (on the floor, computer and phone in easy reach) and say "Net-ratting it again?" I don't know what that means, exactly, but I always said yes.
Late Mar. or early Apr. 2004



Me. At Armando's computer. I think this may have even been one of our first dates. Hi. Nice to meet you. Can I check my email?
Several months later.


I was playing on Armando's computer. Apparently he got bored. So he played dress-up-Sarah while I continued to surf the internet. I looked away from the computer long enough to make eye contact with the camera. Why can't he just sit quietly while I interact with my cyber-friends?
Mar. 2006


I had to take a picture of myself for the Century magazine. My computer is just out of view, but you can see that I prefer looking at my computer over looking at the camera.
I'm beginning to feel like I only exist on film in the presence of a computer. Either that, or I'm a total nerd.
I prefer to believe the former.
Another fun game is called Watch Sarah's Hair Grow. Because seriously dude. That took a long time.
I made additional photo discoveries while searching my computer. I will post them in the next day or two.
Posted by sarah at April 12, 2006 06:53 PM