July 12, 2006
Sarah: 22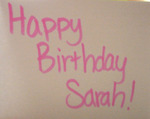 This morning I woke up to this:


Thank you for the beautiful flowers, Jessie! It was great to wake up to flowers (man, when was the last time I got flowers?!) and it was so thoughtful.
Pretty!

Also thoughtful was Lisa's and Blake's recognition of Birthday Week. Lisa sent me funny emails (a Monk E-Mail and an e-card from The Office) and Blake gave me a Birthday Pie. It's been a very exciting week.
I gave myself a gift and this morning I got the greatest gift of all: Nicole's and my favorite grammar mistake:


Happy Birthday, indeed.
Posted by sarah at July 12, 2006 10:45 AM