August 29, 2006
Sarah: Try the Peach Cobbler!
I took a short roadtrip with my parents and Dave last weekend, and this sign was next to our hotel:
Notice anything strange? Let's take a closer look...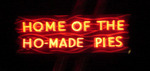 That's right. The restaurant where I enjoyed my breakfast proudly served pies made by actual hos. After reading this sign, my mom ordered a piece of rhubarb pie for the four of us to share in our hotel room. Interesting.
Posted by sarah at August 29, 2006 10:48 PM