September 25, 2006
Lisa: I am the gatekeeper
I was thinking about dressing as Pam for Halloween, but after seeing the original Ghostbusters last night for the first time, I'm thinking Zuul is the way to go. Seriously, how hot is she?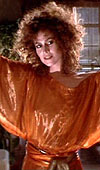 Also, I might have fallen in love with Egon. So...I'm attracted to nerds. This is not news.
Assignment for the internet:
Until I looked it up just now, I was pretty sure that on the Ghostbusters cartoon, one of the team members was a gorilla. Wikipedia shows no evidence of this. Maybe there was a show on around the same time that featured a gorilla and a man wearing a khaki jumpsuit? And the gorilla and the man might have ridden down some kind of slide during the opening sequence? The first person to figure out what show that was gets a very special prize. Until then, this is going to drive me to Snorks levels of pseudo-memory-driven insanity.
Posted by lisa at September 25, 2006 07:09 PM