November 25, 2006
Sarah: Seattle
I haven't pulled pictures off of my camera for several weeks, and it shows. I broke that trend today in order to present my seriously lacking photographic evidence of my trip to Seattle.
My mom and I flew out to Seattle:



Yes, remarks about how much more pale I am have been made. I obviously have my dad's genes (note: eyebrows, fair skin, blue eyes, etc. etc.), but I am not even sure I was within 100 feet of my mother's womb. Oh wait.
Possibly because I had skipped sleep altogether the night before, I restlessly took pictures.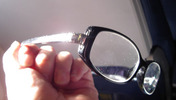 My mom is cute, her glasses are Prada, and I think that's Mt. Ranier in the last photo. I also slept on the plane. Actually, I slept a lot on my trip. I'm pretty sure that my mom and my aunt were bigger party animals than myself. Oh well.
Stuff we did:

Went to the Bodies exhibit (not the same as the one in James Bond, interesting, a little gross, a trifle bizarre)
watched Casino Royale
visited Cupcake Royale
shopped at Archie McPhee (It's weird. It's awesome. Go there and buy lots of useless stuff for family and friends.)
Bought lime green galoshes (not for me, for my mom. I was a little jealous)
Took a walk in the rain around a lake (note to self: bring water-resistant pants to Seattle on next trip)
Watched a dance/music performance at the university
Listened to jazz harmonica at The Triple Door
Ate. A lot.
Attempted to buy or sample the entire inventory at Whole Foods. Remind me again why we don't have those in Utah?
Hung out in Becky's adorable apartment. Spending time with my mom and aunt was a blast.
So it was a fairly full three days. And what do I have to show for it? These two pictures of the space needle, taken from inside Becky's car:



pictures of my mom trying on Becky's leather pants:




a picture of Becky (she's much more glamorous than this picture would lead you to believe. And very pretty. I am mostly posting this photo to show that my mother is always ready for her photo-op.):


and a picture from our flight back to Salt Lake.


So I failed on the taking-picture front, but at least we had fun, right?
Posted by sarah at November 25, 2006 01:02 AM