December 31, 2007
Lisa: chocolate chip cookies
As part of the splurge that precedes every good diet, I made chocolate chip cookies. Not just ANY chocolate chip cookies, mind you--these cookies from Gourmet on Epicurious, found via Super Eggplant. These cookies are by far the best I have ever made. They are big, chewy without being too thin or raw, and completely delicious. Blake ate three, which is saying something considering his usual abhorrence of sweets. The recipe is kind of finicky (yes, I actually measured out 1 3/4 tablespoons of an egg), but I followed every step except for flattening the mounds of dough with a moistened palm. Gross, right? Anyway, they spread out just fine on their own. [Recipe after the jump in case that link ever dies.]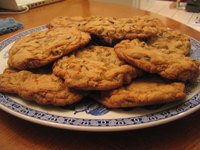 Thanks, Sarah, for your help--and for the use of your hand mixer after mine ingested its own power button. On a completely unrelated note, does anyone know how to get melted butter out of clothing? Washing it in cold just makes little butter balls on the surface, and I'm afraid hot will just melt it back in again.
For those of you who are much more domestically advanced than I am (and I don't kid myself, that is probably most people), regular chocolate chip cookies might seem too elementary. To you I give Bacon Chocolate Chip Cookies with Maple Cinnamon Glaze. You're welcome.
Chocolate Chip Cookies
Gourmet | October 2003
Adapted from Carla Rollins
Active time: 35 min Start to finish: 2 hr
Servings: Makes about 28 large (4 1/2-inch) cookies.
Ingredients
3 cups all-purpose flour
1 1/2 teaspoons baking soda
1 1/2 teaspoons salt
2 sticks (1 cup) unsalted butter, melted and cooled slightly
1 1/2 cups packed light brown sugar
1 cup granulated sugar
3 large eggs
1 1/2 teaspoons vanilla
2 1/2 cups semisweet chocolate chips (16 oz)
Preparation
Put oven rack in middle position and preheat oven to 375°F. Line 2 large baking sheets with parchment or wax paper.
Whisk together flour, baking soda, and salt in a small bowl.
Beat together butter and sugars in a large bowl with an electric mixer at high speed until pale and fluffy, 2 to 3 minutes. Lightly beat 1 egg with a fork in a small bowl and add 1 3/4 tablespoons of it plus 2 remaining whole eggs to butter mixture, beating with mixer until creamy, about 1 minute. Beat in vanilla. Reduce speed to low and mix in flour mixture until just blended, then stir in chips.
Scoop 1/4 cup batter for each cookie, arranging mounds 3 inches apart, on 2 baking sheets. Flatten mounds into 3-inch rounds using moistened palm of your hand. Form remaining cookies on additional sheets of parchment.
Bake, 1 sheet at a time, until golden, 13 to 15 minutes. Transfer cookies to a rack to cool and continue making cookies in same manner using cooled baking sheets.
Cooks' note:
Cooled cookies keep in an airtight container at room temperature 3 days.

Posted by lisa at December 31, 2007 03:15 PM