January 08, 2008
Sarah: 2008 Cooking Adventure, Week 1
On this first weekend of 2008, I baked up a batch of mini pretzels with the help of my lovely assistant, Mallory.
Something was a bit off with the dough (I think that it couldn't rise enough in my chilly apartment), but I pressed on, undaunted. They were such cute, chubby little buggers.
Poaching them made them puff up even more. They came unknotted somewhat, but who cares? I used my pretty new pot, because, why not?
Mallory (whose stunningly beautiful visage will not appear in this entry, at her request) applied the egg wash and salt (not too much! Aside from having cute new bangs, Mallory is a salt-application genius. She could totally work at a PretzelMaker) and then we popped them in the oven.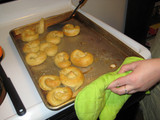 I think these are the tastiest while they're hot. They keep for a few days uncovered and beg to be dipped in mustard and enjoyed with a fizzy beverage.
I was, of course, happy to oblige.
The recipe is after the jump.
Next week: I'm deciding between beef stew, roasted stuffed onions, or something fabulous suggested by a reader. Votes? Suggestions?
Soft Pretzels
recipe found at Smitten Kitchen, originally from Martha Stewart
Makes 16 full-sized or 32 miniature
2 cups warm water (100° to 110°)
1 tablespoon sugar
1 packet active dry yeast
5 to 6 cups all-purpose flour, plus more for dusting
1 tablespoon salt
2 teaspoons canola oil
2 tablespoons baking soda
1 large egg
Coarse or pretzel salt
Vegetable-oil cooking spray
1. Pour warm water into bowl of electric mixer fitted with a dough hook. In a small bowl, combine water and sugar, and stir to dissolve sugar. Sprinkle with yeast, and let sit 10 minutes; yeast should be foamy.
2. Add 1 cup flour to yeast, and mix on low until combined. Add salt and 4 cups flour, and mix until combined, about 30 seconds. Beat on medium-low until dough pulls away from sides of bowl, about 1 1/2 minutes. Add 1/2 cup flour, and knead on low 1 minute more. If dough is still wet and sticky, add 1/2 cup more flour (this will depend on weather conditions); knead until combined, about 30 seconds. Transfer to a lightly floured board, and knead about ten times, or until smooth.
3. Pour oil into a large bowl; swirl to coat sides. Transfer dough to bowl, turning dough to completely cover all sides. Cover with a kitchen towel, and leave in a warm spot for 1 hour, or until dough has doubled in size.
4. Heat oven to 450°. Lightly spray two baking sheets with cooking spray (parchment paper, ungreased, also works). Set aside. Punch down dough to remove bubbles. Transfer to a lightly floured board. Knead once or twice, divide into 16 pieces (about 2 1/2 ounces each) or 32 if making miniature pretzels, and wrap in plastic.
5. Roll one piece of dough at a time into an 18-inch-long strip. Twist into pretzel shape; transfer to prepared baking sheet. Cover with a kitchen towel. Continue to form pretzels; eight will fit on each sheet (you may need a third sheet if making miniatures). Let pretzels rest until they rise slightly, about 15 minutes.
6. Meanwhile, fill large, shallow pot with 2 inches of water. Bring to a boil. Add baking soda. Reduce to a simmer; transfer three to four pretzels to water. Poach 1 minute. Use slotted spoon to transfer pretzels to baking sheet. Continue until all pretzels are poached.
7. Beat egg with 1 tablespoon water. Brush pretzels with egg glaze. Sprinkle with salt. Bake until golden brown, 12 to 15 minutes. Let cool on wire rack, or eat warm. Pretzels are best when eaten the same day, but will keep at room temperature, uncovered, for two days. Do not store in covered container or they will become soggy.
Posted by sarah at January 08, 2008 01:01 AM