January 13, 2008
Sarah: 2008 Cooking Adventure, Week 2
For the second week in a row, I cooked up a recipe from Smitten Kitchen. Ever since I read this entry, I've been salivating over the idea of beautiful roasted onions overflowing with homemade stuffing.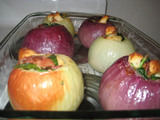 The result is definitely very pretty. I'm not sure that it's quite impressive enough, however, to be with the work.

Hollowing the onions took for. ev. er. I found that gouging out the insides of onions is the perfect way to get them to squirt their juices directly into my eyes. I cried so much that I had to wash my hands and take a break. Thank goodness for my stainless steel soap. It killed the onion smell on my hands, but there was nothing to be done for the smell that seemed to have permeated every corner of my kitchen.
After the onions were hollowed and the bacon was cooked, throwing together the stuffing was easy, especially since I used bread that had already been cubed and toasted for use in stuffing. Lazy, I know, but the grocery store didn't have any loaves that looked just right to me, so I figured I'd give that bag a whirl. This recipe is simple and makes a pretty, colorful and tasty stuffing.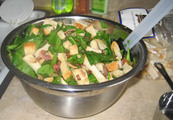 I halved the recipe and only stuffed six onions. I still had a small dish of extra stuffing. I didn't realize until several hours after cleaning up that I had forgotten to include the cashews. Doh!
Verdict: This is a pretty, easy stuffing. I think the crunchy cashews would make it even better. I'll definitely add some to the leftovers. As far as the onion shells are concerned, I think this is too much work for me. Yes, the presentation is impressive and they infuse the stuffing with their flavor, but that ended up tasting a bit too onion-y for my taste, and the onion is just waste anyway. With the color of the spinach and the interest of the bacon and cashews, I think you could serve this stuffing in a large bowl and your guests wouldn't know the difference. I'd make the stuffing again, but not the roasted onions.
Recipe after the jump.
Roasted Stuffed Onions
Gourmet Magazine, November 2002
If you wish to make this vegetarian, simply omit the bacon, and cook the filling in olive oil instead. Vegetable stock can be swapped for turkey.
If you're stressing because you have a lot of guests coming over, you can definitely do the onion-hollowing step a day or two in advance. The stuffing can be made in advanced as well, then brought to room temperature before filling and baking.
10 medium red and yellow onions (4 lb)
1 lb sliced bacon, cut crosswise into 1-inch-wide pieces
3 celery ribs, cut crosswise into 1/2-inch-thick slices
1 teaspoon salt
1 teaspoon black pepper
3 garlic cloves, minced
15 oz baby spinach, trimmed and coarsely chopped (14 cups)
1 (9-inch) round loaf country-style bread (1 1/4 lb), cut into 1/2-inch cubes (10 cups), lightly toasted
2 cups salted roasted cashews (10 oz), coarsely chopped
1 stick (1/2cup) unsalted butter, melted
1 1/4 cups turkey giblet stock
Make onion shells: Cut a 1/2-inch-thick slice from tops of onions, discarding tops, and trim just enough from bottoms for onions to stand upright. Scoop out all but outer 2 or 3 layers from each using a small ice cream scoop or spoon (don't worry if you make a hole in the bottom), reserving scooped-out onion and onion shells separately.
Make stuffing: Coarsely chop enough scooped-out onion to measure 3 cups.
Cook bacon in 2 batches in a 12-inch heavy skillet over moderate heat, stirring, until crisp, about 10 minutes, then transfer with a slotted spoon to paper towels to drain, reserving about 1/3 cup fat in skillet.
Add chopped onion, celery, salt, and pepper to skillet and sauté over moderately high heat, stirring, until vegetables are softened, about 5 minutes. Add garlic and sauté, stirring, 1 minute. Transfer mixture to a large bowl and stir in spinach, bread, cashews, butter, 1 cup stock, and bacon, then cool completely.
Roast onions: Preheat oven to 425°F. Arrange onion shells, open sides up, in a 13- by 9- by 2-inch baking pan, then add 1/2cup water and cover pan tightly with foil. Roast onions in middle of oven until tender but not falling apart, 25 to 30 minutes.
Stuff and bake onions: Reduce oven temperature to 350°F. Transfer shells to a work surface and pour off water in pan. Fill shells with stuffing, mounding it, and return to pan. Reserve 5 to 7 cups stuffing for turkey cavity, then put remaining stuffing in a buttered shallow 3 1/2-quart baking dish and drizzle with remaining 1/4 cup stock.
Bake stuffed onions and stuffing in dish in middle of oven, uncovered, until heated through, about 25 minutes.
Posted by sarah at January 13, 2008 11:54 PM