January 17, 2008
Sarah: 2008 Cooking Adventure, Week 3
When you come home from class in the middle of the week, and your fast food intake in the new year is almost as nonexistent as your dating life (good and bad, respectively), you might as well cook up some Black Bean and Rice Soup. It's easy!
Add beans, tomatoes, onion, garlic, and spices to your favorite pot. Forget that you are supposed to add chicken stock. Leave the pot on the stove on low while you do homework for two hours. You're so responsible. And your hair is so shiny!
Return to the stove, add rice. Leave the soup uncovered in hopes that it will thicken. I love thick soup. Do the dishes because you are adorably domestic. And have straight, pretty teeth!
Add the bright green cilantro. Gather up some containers. You've just made lunch for a week. How fiscally responsible of you! Did I mention that your butt looks cute in those jeans?
Isn't it strange that, even though you first moved out of your parents' house almost six years ago, you don't own a ladle? Or really any serving utensils? Odd. Hey, remember that one time a couple years ago when you were acting depressed and said something like 'I'm just going to sit on my couch and eat sheet cake with a spoon' (because really, what's more depressing than that?) and your friends actually brought you a sheet cake and a spoon? Yes, I know they're adorable. But that spoon was also nice and deep, You can use that for the soup.

So, you took pictures of the new package of semi-disposable containers that you use when you bring lunches to work? That's... helpful. By the way, your new shoes are so hot.
Oh wait! You forgot something you were going to add to the soup. Did you just remember the chicken stock that is in the original recipe that is printed and sitting right in front of you? No, silly.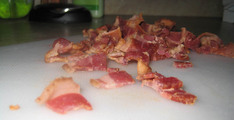 Bacon, of course. Just go ahead and sprinkle a bit on the top of each portion. Now, make sure that all of the tabs on the lids point the same way in your fridge. That is very important. No, it's not a sign of neurosis at all.
Recipe after the jump.
Black Bean and Rice Soup
makes 6 servings, recipe adapted from Kalyn's Kitchen recipe)
2 cans black beans with liquid
2 cans diced tomatoes
2 cups chicken stock or canned chicken broth (hi, I always forget ingredients! I bet that, if you remembered this, it would thin out the soup a bit, but probably tone down how spicy it is. I guess my forgetting this ingredient might make it optional.)
1/4 cup finely chopped onion
1 tsp. minced garlic
1 T ground cumin
1 T dried oregano
1 tsp. chile powder
1/4 cup white long-grain rice
1/3 cup chopped fresh cilantro
1/3 cup chopped bacon
1 or 2 limes (optional) for garnish
In a 3 quart sauce pan, combine beans, tomatoes, chicken stock, onion, garlic, cumin, oregano, and chile powder. Cook on low for 2 hours on stove, until tomatoes are disintegrating and beans are starting to fall apart. Add 1/4 rice and cook until rice is done, about 30 minutes. Add cilantro and bacon and cook 5 minutes. Serve hot, with a wedge of lime for each person to squeeze into soup.
Update: I didn't try the soup when I first cooked it because I'd already eaten and wasn't hungry. Dumb, I know. Verdict: Without the chicken stock and with less cilantro than the original recipe, it was too sweet. I'm going to put it all back on the stove, add the stock and some salt.
Posted by sarah at January 17, 2008 12:02 AM