January 21, 2008
Sarah: Lately
Though you wouldn't know it from this blog, life has been somewhat interesting lately. Here's what I've been up to:
Attending the Utah Democratic Legislative Gala with my parents. I pulled out my fanciest dress for the occasion.


Afterwards I met up with my extremely attractive friends, who were studying at a nearby coffee shop.



Driving through today's treacherous snowy roads.

Hanging out with my niece, the bean. She eats rice cereal now, see?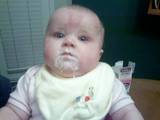 That's a rice cereal goatee she's sporting. She is also perfecting her Superman pose.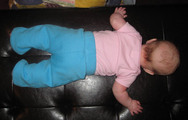 I've also been partaking in other activities including, but not limited to: listening to an NPR program about Finnish music (including Apocalyptica, Jeff!), visiting a slightly disappointing exhibit at the UMFA, playing a game on my DS and marvelling at my TiVo recording Blade II (terrible), Blade:Trinity (deleted it, I've seen it before), Underworld (vampire theme, much?), and Sleepover all in one weekend (I'm not claiming to have the best taste in movies, but come on, TiVo. Give me some credit).
So my life isn't too terribly riveting, but I thought I would check in and let you know that cooking once a week isn't the only thing I'm doing.
Posted by sarah at January 21, 2008 04:45 PM