January 24, 2008
Sarah: 2008 Cooking Adventure, Week 4
Oh ma gaaahhhh, you guys.
Homemade curry makes my life so much better.

And I made up the recipe myself. I have never made curry before, but I couldn't find a recipe that matched the idea in my brain. "So I made some changes, using my own creative ideas."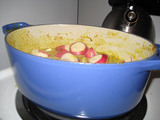 I let the curry simmer until the potatoes were practically falling apart. It was really tasty. At least according to me.
Recipe after the jump.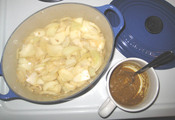 Chicken Curry with Potatoes and Cashews
(makes about 6 to 8 servings)
2 cloves garlic, finely minced
2 small yellow onions, coarsely chopped
1 1/2 tsp ginger
4 T curry powder
4 T water
1 T olive oil
1 cup coconut milk
1/2 cup milk (I used skim, but you could use whatever.)
10 small red potatoes, halved (or substitute about 2 regular potatoes)
3 chicken breasts, cubed
handful of cashews, chopped
salt to taste
Combine garlic, onion, ginger, and olive oil and saute until browned. In a separate small bowl, mix together curry powder and water. Add curry paste to onion mixture and saute together until smell is strong and fragrant.
Stir in coconut milk and regular milk. Then add potatoes and chicken and bring to a boil. Reduce heat and let simmer until chicken is cooked and potatoes are tender, about 25 minutes.
Stir in cashews and add salt to taste. Cook up some rice and enjoy!
Posted by sarah at January 24, 2008 09:46 PM