August 19, 2008
Sarah: 2008 Cooking Adventure, Week 22
I'm sorry. I know I've been neglecting you. Don't be mad, I still care about you. See? I made you chocolate covered bacon.
You heard me right. Bacon. Covered in dark chocolate. See? These are the ingredients:

I brought these to our final potluck dinner with the lovely Angie and Dave before they got into their moving truck last Sunday and drove to New York City. How better to say "I'll miss you, I love you, and can I come visit soon and sleep on your floor?" than with a surprisingly not-disgusting sweet-salty treat? I can't think of a better way.
These are really easy to make. Once was good enough for me, but I recommend you make these, if only to see the look on your friends' faces when you offer up a plate. Plus, bacon has protein and dark chocolate has anti-oxidants. So, you know, healthy.
How to make Chocolate Covered Bacon: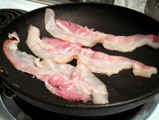 Cook the bacon. Crispy. No one wants floppy, chewy bacon underneath the chocolate shell. Sounds gross, doesn't it? Glad we agree. Crispy bacon it is.
Melt the chocolate in a makeshift double-boiler. Or a real one, if you're fancy like that. Don't splash water into the melted chocolate. That always ends bad, trust me.
Dip the cooled, dry bacon into the chocolate. Sprinkle with sea salt, if desired. I sprinkled about half of the pieces with sea salt. I'm not sure if anyone noticed or had a preference. The bacon was salty enough on its own, though, so this isn't necessary if you don't have it on hand. Let the chocolate cool.
Serve. Watch your dinner guests approach the platter with extreme trepidation.
Posted by sarah at August 19, 2008 03:25 PM