November 17, 2008
Sarah: If you get a squeeze back, that's fancy cookin'
On Saturday, Mallory, Marci, and I went to see Lisa in the local production of Music Man.
The production was pretty good, and the lead character did a very nice job. The costumes, as I'm sure you know by now, were great and Lisa's enormous hats are AWESOME.
We were very excited to be there.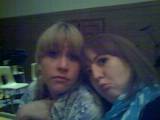 And Marci even got a photo with the Music Man. Except that we were too shy to ask him for a photo (well, too shy because we were obviously too RIDICULOUS), so she snuck behind him for the picture, a la Lloyd Dobbler.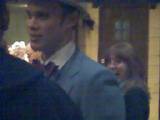 Great job Lisa and the rest of the cast! There are three performances remaining, so you still have time to soak it all in.
Posted by sarah at November 17, 2008 09:32 AM