April 22, 2009
Sarah: Monks and Honey
If you've never made the drive to Huntsville, Utah, you really should. It's a quaint town, but there's not much to see besides a few pioneer era houses (cute) and cows (not cute smelling), but there is wonderful monastery.
The elderly monks (well, most of them are elderly) make and sell creamed honey that's deliciously flavored with hints of orange, almond, raspberry, or other flavors. I could eat it by the spoonful, but don't. Usually.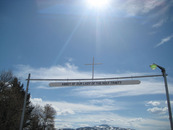 When Lisa, Nora, and company were China, E and I were left behind to make our own fun. Huntsville was the perfect distance from Salt Lake for a Saturday drive. We had lunch at a biker bar, where I sat beneath the gaping maw of an upsettingly large stuffed head of a beloved Saint Bernard (so awesome, yet terrifying). We found that, when faced with an uncomfortably quiet bar full of older men in black leather, it's best to put a dollar in the jukebox and play cheesy music. I think we made a few friends.
After lunch, we bought out the honey supply of that little monastery (they also sell religious items and will bless them or their customer if asked) and were back on the road.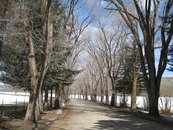 And the drive home? Gorgeous.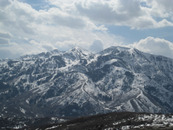 Posted by sarah at April 22, 2009 12:17 AM