February 02, 2010
Lisa: Nintendo Cross-Stitch
My decision to make all homemade Christmas gifts this year gave me a great excuse to try some crafts I've been wanting to do and to finish some projects I'd started and then abandoned. These cross-stitched dish towels featuring classic Nintendo characters are one of the latter.
With their matching gun-arms, I always thought Samus and Megaman would make a cute couple. Almost as cute as Angie and Dave, who I hope are using these towels in their tiny kitchen right now.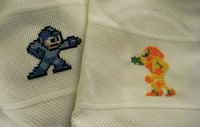 The cross-stitchable towels are available at most craft stores--I think I got mine at JoAnn's. For the patterns, I found pictures of the 8-bit characters online (try looking for game packaging and sprites), and then mapped the pixels out on graph paper as best I could.
Posted by lisa at February 02, 2010 04:43 PM