April 15, 2010
Sarah: Facebook Commentary
For you Facebook users: Do you feel like the latest redesign of Facebook has buried any vaguely interesting content that about what your friends are saying and instead presenting you with... well, not much?
Luckily, there are still ridiculous ads. And luckily my sister is hilarious. Observe:
From: Lisa
To: Sarah
Subject: question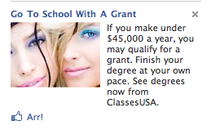 What degree do you think these ladies are pursuing?
From: Lisa
To: Sarah
Subject: too busy to get a degree?


Yeah, when I saw this picture I was like, "that girl looks BUSY."
I like that girl. And I have a lot of ideas about how we can take photos together. A lot of ideas.
Lisa, start applying the frosted lipstick. I'll be right over to start weaving myself into your hair.
Posted by sarah at April 15, 2010 10:51 PM