February 06, 2010
Lisa: book character softies
When I saw this adorable dollhouse created for homemade versions of Lauren Child's Charlie and Lola on sweet sweet life (found, I think, via loobylu), I knew Nora had to have her own Charlie and Lola dolls.
From there, things sort of spiraled out of control, and she had to have dolls of ALL of her favorite book characters. Luckily, it was harder than I thought to find suitable illustrations of the characters standing alone in a way that made sense for being cut out of context and played with, so the pool was limited a bit. As you can see, we also ended up with George and Martha, the Powerpuff Girls, Cynthia Rylant's Hansel and Gretel, the No No Yes Yes baby, Alice, Eloise, and Edith.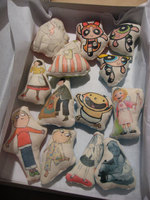 I scanned the images from Nora's books and printed them onto iron-on sheets with my hand-me-down inkjet printer. I love printable iron-ons, and I always keep a few packs on hand for spontaneous crafting. Anyway, I ironed the images onto some off-white cotton duck I already had--actually some old curtains from our first apartment--and cut matching backs out of a set of coordinating fat quarters from JoAnn's. You can kind of see the backing fabrics in this photo:
Nora's still a bit young for her dollhouse, but I think the more she gets into it, the more these little softies will get used. And they're so easy and inexpensive to make, I could always add in a few new ones (maybe even mini family members?) to keep things interesting. Plus, I like the idea of incorporating her favorite characters but retaining the feel of a homemade, non-commercial toy.
Posted by lisa at February 06, 2010 11:34 PM