July 22, 2004
Lisa: Pretty drawings do not a website make
My mom and I had another meeting with the designer for our Concert Black business last night. It was all kinds of serious, with fabric samples and a design board with pretty drawrings and everything. Evidence below (click the thumbnail for the bigger picture).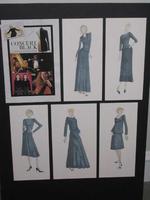 So, the next step with the clothes is a few design changes (like making the skirts all long enough) and getting quotes from manufacturers.
Unfortunately, the clothes part isn't my responsibility. Instead, I am supposed to be working on the website. Argh! E-commerce websites have so much STUFF involved that I don't know how to integrate. I need a tax calculator, shipping calculator, credit card verification/processing service, SSL on my web server, a web server, a digital ID/authentication certificate, and a really good looking and functional website. What do I have? None of the above. Help!
Update: the website is live! Check it out here.
Posted by lisa at July 22, 2004 04:32 PM