September 27, 2006
Sarah: Musing
Last night I went to the Muse concert at Saltair with my brother Dave. Lisa couldn't go because she had to work, so I promised to give a very detailed account. Here we go. After I yelled during the car ride that we were late, lost, etc. (Dave was very patient and indulgent) we arrived at the venue to find a line that wrapped through the parking lot of people waiting to get inside. Here's Dave waiting in line.
This is what Saltair looks like:
Not quite as cool as in its heyday, but still a sort of interesting looking venue.
After waiting in line for a while, we met up with Michelle and then got inside. The opening band hadn't started, so we took some pictures.
The inside is basically one big rectangular room with a stage at one end and restrooms on the other. There are stairs on either side of the room that lead up to an upper level. On one side is the SaltSlick, a bar where some people went to get alcohol, others just for a better view. The other side was the VIP area, but that? is just lame. We stayed on the main floor. Dave and I ran into Mallory and her brother Mikey, but I forgot to take a picture. Believe me, they were both beautiful beyond all reason. They chilled out in the back of the hall, but Dave, Michelle, and I were just about exactly in the middle. Mallory and I texted sporadically throughout the night.
The opening band was The Like, a group that Dave described as "exactly like the Bangles. But not as good." They are a girl group, though, and you have to respect girls that rock. Or try to rock.
Text from Mallory: Is this the first band?
Text from Sarah: The first we've seen.
M: Muse better be next or I might punch a face in. Special
S: Lol. We agree. Special
After The Like's set, I started to get picture happy. And the crowd started to push towards the stage, so we got a little closer. Check out how close we are and see Muse take the stage after the jump!
I took pictures of Dave and Michelle to show how close we were.
Close!
The guy behind Michelle was a little disturbed, so I showed Tiny Sideburns the picture I'd taken to show it was of Michelle, and not him. Thus began my concert-friend-making.

I took this picture under the premise of showing how close I was to Dave, but mostly to show you, dear reader, that there was a guy near us that looked like my high school boyfriend. A Band Member lookalike! In a ridiculous hat/earwarmer!
I've never seen someone at a concert look so apathetic. This dude was practically falling asleep. We'll call him Drowsy McLumpyBored.

I thought I was going to have to make out with this guy because he was completely pressed up against me. Surprisingly, after I just turned towards him and took a picture, he backed off.

Dave and I asked if we could take this picture. Dave took the picture, and I'm chatting with the subject. We call him Wormhole Guy, because we kept seeing him pushing past us towards the stage. But we never saw him go towards the back. The only solution? There was a wormhole. As a bonus, you get a better look at Not-Band-Member's hat.
We made friends with the two guys standing behind us, mostly because I was worried that people would feel left out if I didn't take their picture. That was probably illogical.
Meet Ammon and Ben.
While the stagehands were setting up for Muse, the crowd would scream everytime a someone walked onstage.
Yay sound guy!
Text from Sarah: There's a couple that keeps watching me. I think I might take their picture just to bug them.
Text from Mallory: Lol punch them in the face.
S: Definitly.
While we waited, Dave and Michelle surfed the internet on Dave's phone.

Michelle declared her own myspace her favorite myspace.
Right before Muse took the stage, A tall guy stood right in front of Dave. So unfortunately, this was what he saw.
or, if he stretched his neck he might see...
No, he didn't know we were taking pictures of his immaculately sculpted hair.
Then Muse took the stage! Yay! They were loud and rockin, and there was much screaming, singing, and booty-shaking by me. Much hopping up and down by others. I think we were at the perfect place in the crowd because we were not at the back, but we weren't in the jump-y, moshy part of the crowd either.
Muse began playing "Butterflies and Hurricanes"
Text from Sarah: It's ur favorite! I'll punch some people for u.
Text from Mallory: Your number has been called.

Dave took a picture with his phone and emailed it to Lisa.
Ammon kept offering to hold my camera up higher for pictures (he was tall).
Text from Michelle: He likes you i think.
Muse played "Supermassive Black Hole"
Text from Sarah: I so totally commented on ur myspace about this song.
Text from Mallory: Hee I just told Mikey that. Just shoved someone.
S: Good work! I think I'm being flirted with.
M: Is he tall? Because I didn't get the memo stating that you had to be at least six feet to attend...
S: Lol. Yeah, he got the memo. It's like the opposite of Dave's band's fan base.
Mallory and I have joked that all of Dave's fans seem very short. They have a concert this Friday, so you can check that out, if you'd like. In contrast, Muse's concert was full of people over six feet tall. Weird.
Today on MSN Messenger, Dave illustrated the phenomenon:

Apparently ghosts like Muse, because there were a lot of orbs in this photo...
Or perhaps they're just hanging out in Saltair because of the curse.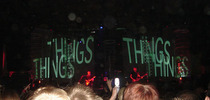 That picture was taken during "Knights of Cydonia". The chorus lyrics were projected up on the screens in time with the music.
I have a few more pictures from cell phones en route to my computer.
I'm working on a video clip, which would be the first video in Two Loose Teeth Blogging History. Right now the file is too large, so I'll see what I can do.
I couldn't leave the concert without acquiring some fabulous booty. I had planned on purchasing the shirt from their site, but it wasn't for sale at the concert. Instead, I got this red shirt. The giant circle isn't on the shirt. Just a little ghost that followed me home.
It was fun! Hurrah! Lisa, I so wish you could have been there!
Posted by sarah at September 27, 2006 11:00 AM