October 16, 2008
Sarah: Ephemera
My love of typewriters runs true and deep. The latest addition to my growing typewriter collection (pictures to come soon) came in a case full of typewriter accessories.
Some of my impressive haul:
The manual for my new Royal Quiet De Luxe:
Typewriter Cleaner: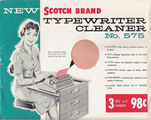 And a variety of type correcting paper:
This correcting paper came with an excellent special offer:


It's hard to read, but with enough coupons, a lovely typist could receive stockings, eyelashes, or even a pearl necklace. Amazing.
Maud of Paris, Idaho: I have your typewriter.
And your recipe for doughnuts.
A great addition to my collection, no?
Oh, and my new job is going great.
Posted by sarah at October 16, 2008 10:37 PM