November 19, 2008
Lisa: last one!
I think I mentioned before that one of the costumes I get to wear in the Music Man is a ridiculous sailor-collared "athletic" outfit. I snuck mine home after rehearsal last night to alter it to fit a bit better. If you think that shirt looks baggy and shapeless now, you should have seen it before.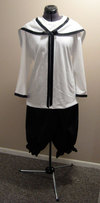 If you have never been in a play before, you might be blown away (as I was) by the level of characterization that even the most minor characters get. Not only is the newlywed Mrs. Squires (that's me) ridiculously in love, but she also married into money, and likes to show it off by wearing a million different expensive (and slightly insane) outfits. Anyway, the point is that I thought Mrs. Squires would add a little extra something to her gym uniform, so I borrowed a big Gerbera daisy clip for my hair from Sarah's collection.
Here's my final costume in action (pre-alteration). You can't see them in the photos, but those black bloomers are worn over opaque white tights and high-top Converse All Stars. Sexxaaay!
There's still time to change your mind and come see the show! YOU KNOW WHO YOU ARE.
Posted by lisa at November 19, 2008 11:01 AM