February 10, 2010
Lisa: a cunning piece of knittery
I made this Jayne hat for my "shiny"-saying baby brother, Jeff. He didn't recognize it immediately, which I admit did make me doubt his Firefly credibility a tiny bit. I didn't doubt the accuracy of my hat replica, because it is clearly spot-on.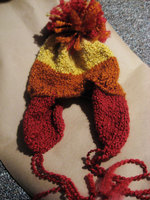 I used this pattern from Heather on Craftster, which was great. The yarn is Lion Brand Homespun, which is the only thing the regular craft store had that was rustic enough and came in remotely close colors. I've had a lot more knitting experience since last time I used Homespun, and besides, I'd say the yarn is easier to knit with than to crochet with. When you're crocheting, you have to figure out what loop to pick up from the mass of your project; with knitting, the loops are already on the other needle. Anyway, since I had to buy three huge skeins, I probably could have spent less on something more appropriate at the real yarn store, but whatever. Jayne hats for everyone!
I am notoriously bad at checking my gauge, and I was worried the hat would turn out way too big for Jeff's smallish head, but it was perfect! Jeff even humored me by wearing his hat everywhere he went for an entire week.
Posted by lisa at February 10, 2010 10:26 AM