December 16, 2010
Sarah: 2009 Ornaments, Jillian's Red Horses
Jillian took some red felt, added a little white felt, topped it off with some white embroidery, and ended up with something adorable.
They look to me like they're inspired by those red folk art horses that the internet tells me are Swedish and are called Dalecarlian horses.
Regardless, Jillian's ornaments are adorable. And her neat little stitches!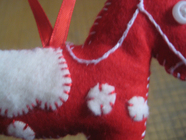 Austin Scarlet would be proud.
Posted by sarah at December 16, 2010 10:17 PM