December 16, 2010
Sarah: 2009 Ornaments, Jeff, Jo, Jes, and E
I found a blog entry I started in January with several photos already pulled together. Behold, the blog that should have been:
My little brother Jeff makes great snowflakes. He made one for each participant with chubby penguins and their name along the edge.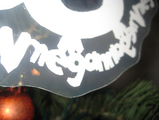 Jo made delicate globes of hand-tatted lace in several different colors. Jo, let me know when you want to come teach me and Lisa how to do this.

Jes made little stained glass Christmas trees. Whoa. I was so impressed by this ornament. She really put me to shame this year, and I'll have to step it up next year.


E folded tiny gold paper stars, then hung them inside a clear glass globe. I love the ribbon that she used on the top.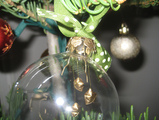 Posted by sarah at December 16, 2010 10:22 PM