January 30, 2011
Sarah: And it's not even November
I signed up for Kendi's 30-30-30, so while I'm sifting through my closet and doing laundry to get my 30 clothing items pinned down, I thought it was about time to recap the lovely ornaments from this year's Ornament Swap.
First up is Rachael, whose ornaments completely cracked me up.

Nothing says Christmas like penguins and dinosaurs. Awesome.
But tragically, Rachael's ornaments didn't make it through the mail unscathed.
In case any of you in Group 2 were wondering why there were a few loose plastic animals in your package of ornaments, I took the liberty of keeping one of Rachael's extra ornaments (Rachael, let me know if you'd like me to send it back to you!) so that I could show you how I fixed it. It's super easy, I promise.
First I scraped off the snow from the bottoms of the little dinosaur feet. I thought it'd be best to start with a clean surface.

Then I glued them back in place. I used Tacky Glue, but I bet that hot glue or superglue would work well too.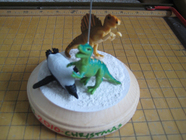 And then done! Easy fix. Thanks, Rachael! You are a sassy broad and I like you as much as you like cats (a lot).
Posted by sarah at January 30, 2011 01:19 PM