February 08, 2011
Sarah: Winter 30 for 30, Days 1-3
Day 1:
I started out with an outfit I've worn before, but with slightly more interesting accessories. A standard Sarah uniform is black shirt, black skirt, black tights, black boots because… that is how I do. But the marginally more interesting version is:


Black v-neck sweater, black camisole and black skirt with blue tights, brown boots, and a cream-colored pashmina scarf.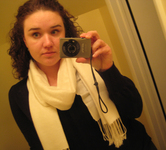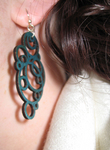 I think my mom got this scarf for me in New York. It has a pattern woven into it and I love it. So soft and pretty. The earrings from E match my new tights perfectly.
It feels a little strange to plan what I'm going to wear in advance, but I think it helps me look more put-together. And I think my friends and coworkers are already relieved that I haven't worn my most comfortable hideous jeans once this month. This outfit is fairly dressy for the print shop where I work, but there ain't no shame in looking somewhat presentable, right?
Day 2:
It. Was so. Cold. I'm talking below zero degrees in my drafty apartment. And I'm not okay with that. I woke up wishing that I'd included a Snuggie in my 30 clothing items, so I cobbled together a reasonable facsimile.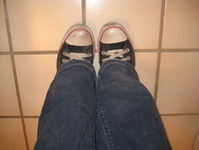 Lucky for you, gentle reader, I cannot wear this same outfit for 28 more days, no matter how cold it gets. I was not psyched about this outfit. Despite how much I love my comfy Chuck Taylors, I think I will retire them after the 30 for 30. They're getting a little gross, yes?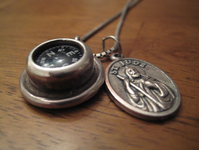 My favorite part of my ensemble was my necklace. I bought the compass for myself several years ago when there were some painful (but good) changes in my life. It really works, though no one believes me when I tell them. My lovely sister gave me the St. Jude medallion. He is the Patron Saint of Lost Causes.
I don't intend to make the photos in the yellow light of my bathroom a regular thing, I just need to start leaving work while the sun is still up. Hmm, interesting idea...
Day 3:
Sometimes you work until you've rubbed all of your makeup off and it's dark outside and you're grocery shopping with your sister and niece and the best lighting is in the produce aisle. It happens, you guys, I swear. Most likely when you have forgotten your camera and only have your camera phone.


The jury is out on this blouse for a few reasons:
1. I do not like the word "blouse".
2. It has a built-in modesty tank top, which is great in theory, but it slides around a fair amount and just when you think everything is fine, (Mom and Dad, don't read this) all of a sudden your boob is above the tank top and you don't know what happened.
3. The fit is a little odd. Not a huge deal when it's a flow-y layer, but still. Odd.
I still think these boots look a little like the hooves of a Clydesdale horse.
This is a Clydesdale:

And this is a Clydesdale if its hooves were purple: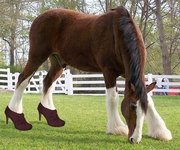 Am I crazy?
Posted by sarah at February 08, 2011 11:18 PM