February 10, 2011
Sarah: Winter 30 for 30, Days 7-9
It which it is revealed that Sarah is a huge dork (and absolutely no one is surprised):
Day 7:
I asked Lisa to take a photo of my outfit in front of the giant fireplace at our Monday night spot, but then I felt like a weirdo, so naturally I posed like one. Lisa suggested props, but those photos were even worse. I'll spare you.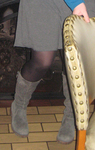 Here you can see one of my late picks for 30 for 30: a long-sleeved, peacock blue t-shirt from Old Navy. That'll do.
Day 8:
I call today's ensemble Weirdly Western. I've never thought that my brown boots have a western vibe, but when paired with a denim skirt and plaid shirt, that seemed to be the overall effect.


Things I've learned:
1. I can't tuck in shirts with this skirt. It looked terrible when I got ready in the morning.
2. Next time I'm invited to a barn dance, I know what to wear.
3. I'm not awesome at this whole daily photography thing. I'm trying to be better.
Day 9:
Nora helped me out with today's photography again. She placed me in front of her dresser and told me to say cheese:


I'm so glad I smiled.
Don't worry, the photo shoot got more uncomfortable.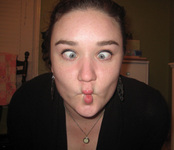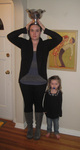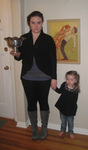 Now you see why I stay away from props.
But is America ready for my side bun?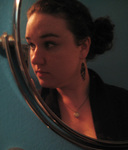 So what did Nora have to say about all of this silliness?

You know that a kid is being raised right when a 3-year-old sensors herself and says "sweater" instead of "boobs". I like you, Miss Nora.
Posted by sarah at February 10, 2011 11:47 PM