February 12, 2011
Sarah: Winter 30 for 30, Days 10-12
Day 10:
When I stopped by Lisa's house on my way home from work so that she could take my photo, I discovered that we had Matching Sister Sock Buns!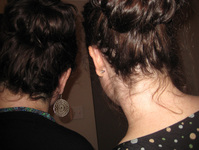 I kind of love sock buns and think they're super easy and comfortable. And good for when you wake up late and don't have time to wash your hair. Sorry I'm gross.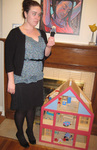 This was one of those outfits that you think look cute all day until you get home from work and then you think "Oh no. When did this turn bad?" When you're having one of those days, a jumping photoshoot with an unreliable camera is probably not the way to go. I look like I'm trying to take flight.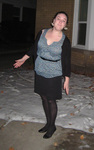 The humiliation I endure for your entertainment...
Day 11:
We're almost halfway done and I'm getting concerned that I am running out of ideas for outfits and that I have entirely too few interesting accessories.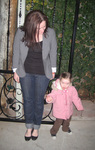 At least my awesome niece is a good accessory to any ensemble.
Day 12:
And now (finally) presenting my 30th item:


A basic black dress that is super comfy and hopefully will add a few more options to the mix for the second half of this month. Of course, taking photos at 1 am in the freezing cold wasn't the very best idea I've ever had. Check out my sweater-y tights: they're actually regular black tights with some knit thigh-high socks over them. They were the warmest part of my ensemble at that moment. Power through this snoozefest of an outfit, my friends. More embarrassment is sure to come.
Posted by sarah at February 12, 2011 01:55 PM