February 16, 2011
Sarah: Winter 30 for 30, Days 13-15
Day 13:
I have a 30 for 30 confession. I swapped out one clothing item. I've been passing over one of my tshirts (the blue v-neck from Alternative Apparel) while simultaneously wishing that my grey tshirt was in the mix. So I decided that since I hadn't really used the shirt yet, it wouldn't hurt to wear something else instead.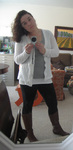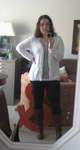 This is part of what I think is worthwhile about the 30 for 30: it's about getting to know what clothing is in your closet better. I'm figuring out more than just how many clothes I wear with a white or black camisole. I'm also figuring out which clothing items are the most useful, and which I like to wear.
Day 14:
True revelations: Often on Sundays, I don't get ready until the mid-afternoon. We're going to say that's because I'm busy cleaning my house and not because I'm watching Roswell while sitting on my couch. That means that sometimes I recycle my Sunday outfit on Monday. So I swapped out the sweater and wore yesterday's outfit. I'm only a little embarrassed.



The only photo of me wearing this outfit was taken when Lisa's singing group surprised me with a Singing Valentine.


I'm that slightly embarrassed looking blur in the center.
Day 15:
Another revelation I've had during the first half of this project: I don't really like my boot-cut jeans. They used to fit like a dream, but now they're oddly stretched out in some places and still snug in others. Do not like. It seems that these bathroom photos are code for let's get this over with.


Oh! And I dyed my hair. The goal was to use a grocery store dye to touch up the dark reddish brown color that I got at the salon. The roots are a bit light and red, though, yes?


I will call this an $8 take on the ombre look.
Next up: What happens when you realize that your cousin's wedding falls during the 30 for 30 and your clothing options are decidedly casual? Not even I know the answer to that one.
Posted by sarah at February 16, 2011 12:15 AM