November 09, 2006
Sarah: Cabin
I used to give weekend updates, but I've been slacking lately. Here's a quick review of what I did with myself a few weeks ago:
I hung out with a group that I often call the Century Kids. They rock. And smell nice. And all have very pretty hair. Now to the point: E invited us all up to her cabin in Kamas. I drove up with Andrea and Michelle. Once we got within about five miles of E's cabin, it began to snow.
Michelle drove and I was in the back seat. That's her in the mirror.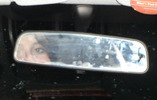 Andrea is well-known for taking a plethora of pictures at any get-together. She was much more on top of her picture taking and blog-writing than me, so you can see her version of the events here. And below you can see Andrea in her natural state.

Clay is very indulgent of Andrea and I taking photos. He even smiles (when I don't interrupt a cookie-tasting).
I love my brother. And I love that he lets me hang out with him. All of my siblings are pretty cool that way.
I admire E's fashion sense. Her sweater was very lovely. So was, apparently, her pizza-cooking. Michelle enjoyed it.
Through all this excitement (er, that is to say, standing around while the camera flashes from Sarah and Andrea rained down upon E's guests), we played some Guitar Hero (see pictures below), watched The Fog, and played Monkey Ball and WarioWare until 5 am.
I consumed approximately two liters of Diet Coke, and was ridiculously excitable and giggley as a result. It was a good night.
Thanks E!
Posted by sarah at November 09, 2006 07:19 PM